Round 10 is up and running!!
It is that time again! Time to bake for our ever so deserving military!!! For this round, I found him through his wife on twitter!! Below you will find a little bio about him from his wife! As always, if you have any problems or questions, please email me at baking4troops@gmail.com or leave a comment here with your contact information! Thank you so much!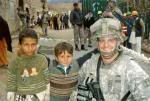 SSG Nicholas Limerick is assigned to Bravo Company over in Afghanistan. He has been in the Army for 8 years and plans on becoming a Warrant Officer when he returns home in January 2010. He has a wonderful wife, Jennifer, and has been married for 7 years. He also has a daughter, Shannon, who is 5 months old. He deployed the day she turned a month old. He enjoys watching
the Baltimore Ravens, playing video games, hunting, fishing and camping. He was born and raised in Texas and plans to retire there one day.